WhatsApp is one of the most popular means of communication at the moment and therefore also an attractive target for scammers. With this guide, we will show you how to arm yourselves against common WhatsApp scams.
1. WhatsApp expired
We see the messages regularly come by lately: WhatsApp users who complain about recurring pop-ups in their browser reporting that the chat service has expired. Then the `advice` is given to install an update to prevent the loss of your contacts, messages, and media. Don't fall for it, because after updating it you're stuck with a subscription that costs between five and ten dollars per week.
If you can't get rid of the `WhatsApp expired` notification, erase the data, cookies, browser history or remove and reinstall it. If that doesn't solve the problem, consider making a backup of your data and restore the factory settings. Whatsapp will never expire because it's a free app now on all platforms.
2. WhatsApp outdated
Some users report WhatsApp that they also get pop-ups in their browser claiming that the version of the app they use is obsolete. It actually goes without saying that you should not click on this type of blinking messages. WhatsApp updates are always deployed on Google Play or App Store and you can look in 'My Apps' if there is a newer version.
DOWNLOAD UPDATES ONLY THROUGH OFFICIAL CHANNELS
Sometimes updates are only available through the official website rather than in Google Play; In that case, you can manually download the app and install the .apk file. However, avoid unofficial channels that provide updates; they don't always check whether any malware is included.
3. Messages of 'friends'
Always be critical to links or strange messages that you receive from other users via WhatsApp, even if it is at first sight acquaintances or people who claim to work for the service. Think of interesting offers and rewards you might receive by clicking on a link. In many cases, these are phishing; so don't click them! Also, messages you must send to contacts in order to avoid having to pay for WhatsApp, you can send to the trash directly.
Finally, there are cases of fraud via WhatsApp in which the victim is approached by someone posing as an acquaintance. During the call, not the phone number, but a Facebook photo of that user is being used. By generating confidence and say that online banking was not working, the scammer hopes to catch money. Since most users then become suspicious, this trick usually fails.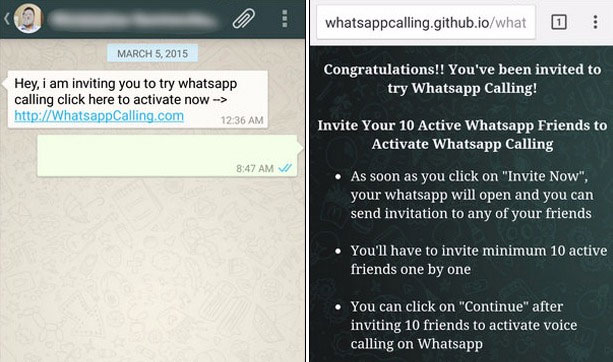 Have you ever had to deal with spam on WhatsApp? Share your experiences below.